Top 5 Ultralight Tents under £150
Top 5 Ultralight Tents under £150
Want to see the full list of Ultralight tents under 150? Check out the full comparison table here.
Finding a tent that's lightweight, durable and isn't going to bankrupt you is a very difficult job. I'm constantly on the lookout for lightweight and affordable tents under £150 that are going to last more than a few trips.
Here are my top 5 tents so far in 2021 that will do the job
Naturehike Cloud Up (20D version)
1 Person: 1.3kg – £109 | 2 Person: 1.5kg – £139
Pros
Quick and easy to set up
Can handle moderate winds
Tall enough to sit up inside to eat get dressed
Cons
Can't open the door and look out if it's raining
I bought this tent to use on my 269 mile hike along the Pennine way and it was absolutely brilliant.
It's both compact and lightweight, fitting fitting in perfectly inside my Osprey Exos 58.
It's also super quick to set up at the end of a busy day. After a little practice I could have the whole thing up in less than 5 minutes.
The only gripe I have with this tent is the entrance – it opens to the side, which means you can use trekking poles to turn it into a mini rain awning so if it is raining you have no option to keep the door open.
This didn't particularly concern me on a solo thru-hike but if I was static camping on a site for a few days in the glorious British weather then it would really annoy me…
---
DD Superlight Pyramid Tent 1-2 Person
Outer: 0.45Kg – £89 | Inner: 0.56Kg – £65 | Combined: 1kg – £160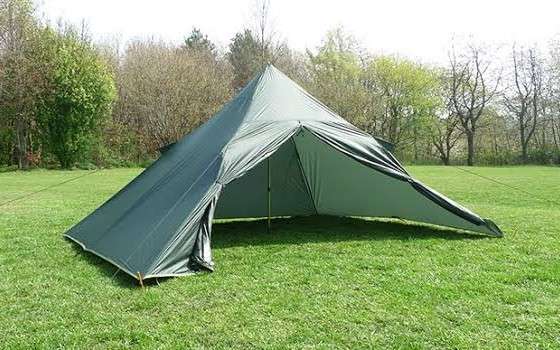 Pros
Lightweight if you carry both parts, ultralight if you only carry the outer
DD Hammock gear is built to last
Cons
A bit annoying that you have to buy the 2 parts separately
You carry to carry a hiking pole with you
This pyramid tent from DD  tarps is an excellent option, especially if you are camping in areas where you don't need to worry about midges or other flying irritations. It's super quick to set up, sturdy and offers plenty of headroom.
It's a bit annoying that you have to buy the 2 parts separately and it requires a trekking pole to set up, but if you hike with trekking poles then it's not a problem. The footprint is hug though, so finding somewhere to pitch when stealth camping could be an issue in some places.
Also it's not recommended up the top of mountains, due to the surface area of fabric!
---
DD Superlight Tarp Tent
1 person: 0.9kg – £130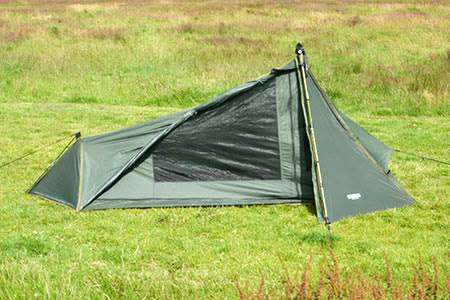 Pros
One of the lightest tents for the money
The low profile makes it great in windy conditions
Made from durable rip-stop nylon
Cons
Limited headroom for sitting up
You'll need to use trekking poles
You can't have the door open in the rain
If I was off for a week's camping on the top of the mountains in the lake District, ticking off some more Wainwright's, then this would definitely be my first choice.
It's lightweight, quick to pitch and the low profile and sturdy materials are designed with British weather in mind.
If I was looking at doing an extended long distance hike or I wasn't thinking of taking hiking poles (e.g.bicycle touring) then I would look at taking a different tent with more sit up room and the ability to have the front door open in the rain.
---
Lanshan / 3UF UL Gear tent
1 Person: 1.2Kg – £149 | 2 Person: 1.5 Kg – £159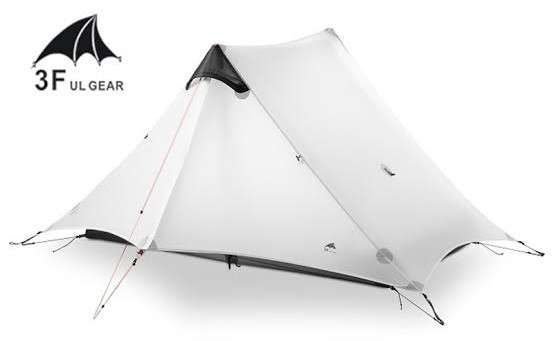 Pros
Excellent headroom
Plenty of gear storage space for 2 people
Room for cooking in bad weather
Cons
15D Sil-nylon would be vulnerable in heavy winds or on long distance hikes
Requires you use hiking poles
If you are looking for a lightweight, spacious 2 person tent and you are confident that you will be able
I toyed with the idea of buying this tent for my long distance hikes where I would be spending a lot of time in the tent, but in the end I realised that I would be better off saving up for a Dyneema tent, something like the Z-packs Duplex.
---
Naturehike Vik
1 Person 1.25kg – £139 | 2 Person 1.5 kg £150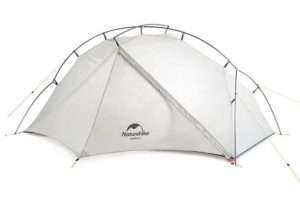 Pros
The door can be converted into a wind/rain blocker for light rain
Plenty of storage space
Small footprint and semi freestanding
Cons
The 15D fabric and plastic pole connectors might not last a thru-hike
The Naturehike Vik ticks a lot of boxes for me – the weight is acceptable and have a wind-break / mini rain awning would be a serious bonus. With the small footprint it would be easy to find a stealth camping spot and it would be quick to pitch.
I have been tempted to buy this tent for the last few months and if I can't justify the extra to buy a Dyneema tent that it's probably the tent I will opt for on the 3 week long Cape Wrath Trail. Given that it is made from 15D sil-nylon I'm not sure it would last a full 5 month hike like the AT though.
---
Full Ultralight Tent List
Want to know what all your options are for the sub 1.5kg/£150 tents available in 2021? Take a look at the full comparison table here.