What's the problem with boil in the bag meals?
Boil in the bag meals, such as those by wayfarer are an excellent choice for wild camping and Duke of Edinburgh expeditions. Simple to carry, cook and eat, they take away much of the hassle associated with camp cooking.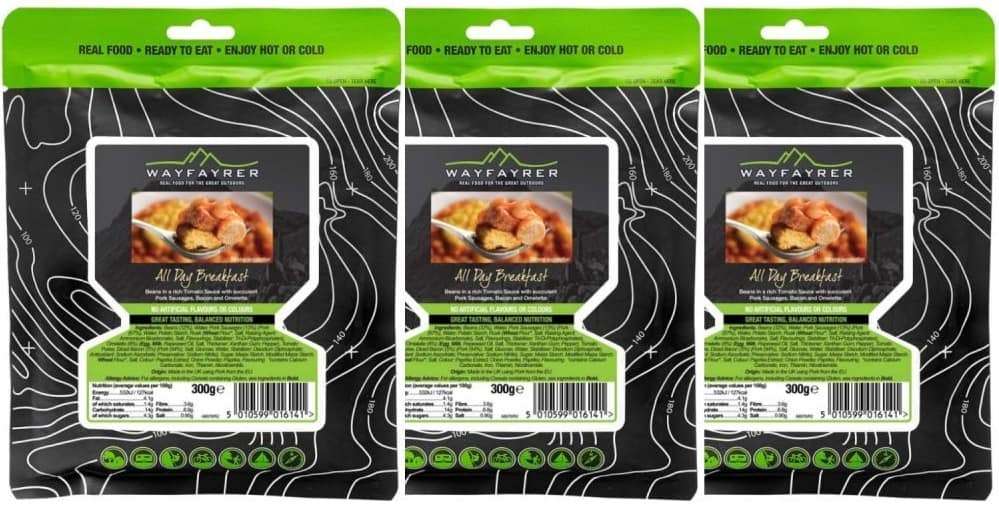 However on multi-day hikes and pack-rafting adventures, such as our recent Pennine Way and Great Glen Canoe Trail adventures, the weight adds up to the point where dehydrated rations are needed.
Wet rations typically sit around 150 calories per 100 grams, so if they were to be used exclusively then you would be looking at carrying at least 2.5 kg per day of wet rations. For a 5 day expedition your food would likely weigh more than rest of your gear combined!
Keeping the weight down
What is need then are foods with higher calorific counts:
3 – 5 day journey – Greater than 300 Calories / 100 g
5 + day journey – Great than 400 Calories / 100 g
. This can easily achieved through the use of carb-rich dehydrated foods and high fat, low moisture foods (e.g. cheese)
Breakfast
My main staple for breakfast foods are muesli or porridge, either of which can be made up using powdered milk. You can also carry normal breakfast cereal like cornflakes, but these tend to be quite bulky.
Muesli – 340 Cal/100 g
Porridge – 360 Cal/100 g
Cornflakes 360 Cal/100 g
Lunch
Snack bars
On a long distance thru hike I rarely stop for a proper lunch. I tend to prefer to make a series of shorter stops where I might make a cup of coffee and have a snack bar.

Muesli Bars – 380 Cal /100 g
Chocolate Bars (Snickers) – 510 Cal/100 g
Nature Valley Oat bars – 470 Cal/100 g
Wraps
Tortilla wraps make excellent hiking food and will normally last up to a week in your pack, depending on the filling. Because they are already flat you don't have to worry about squashing them!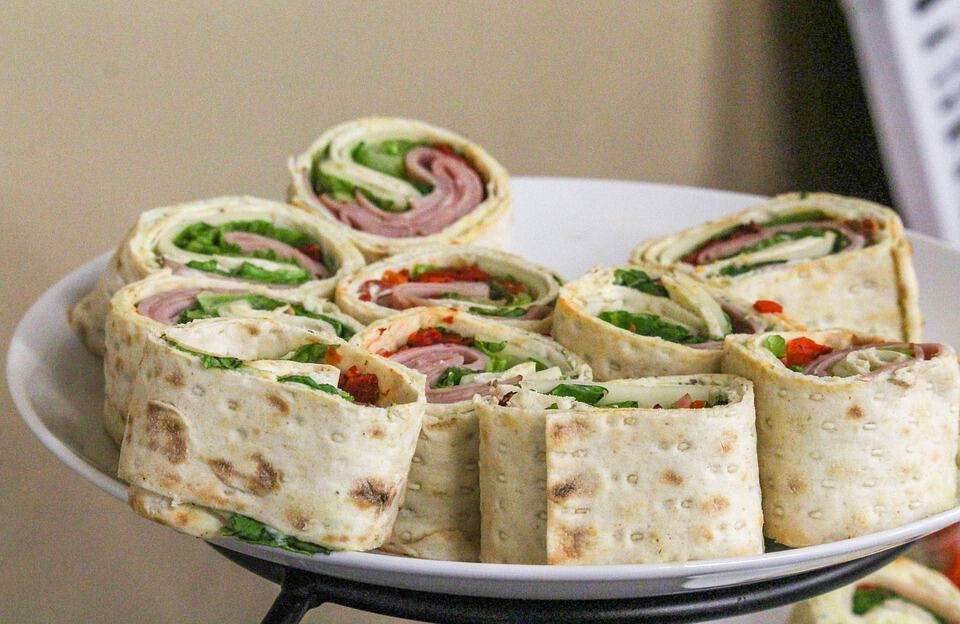 Tortilla Wrap – 310 Calories / 100 g
Cheddar Cheese – 400 Calories / 100 g
Mayonaise – 700 Calories / 100 g
Parma Ham – 260 Calories /100 g
Cup a Soups
Sachets of soup are incredibly tasty as a drink, but they can also be added to rice or pasta dishes to create a sauce.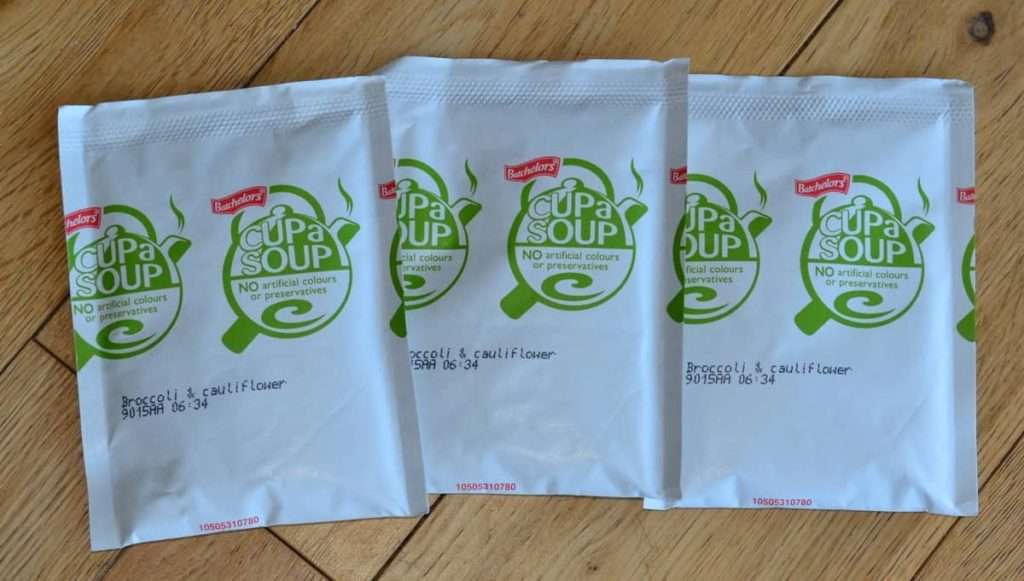 Cup a soup sachets – 400 Cal/100 g
Nuts & Trail Mix
These are incredibly popular with long distance hikers and it is no surprise why – they are very high in calories! Banana crisps can also be added to muesli or porridge for extra flavour and a calorie boost in the morning!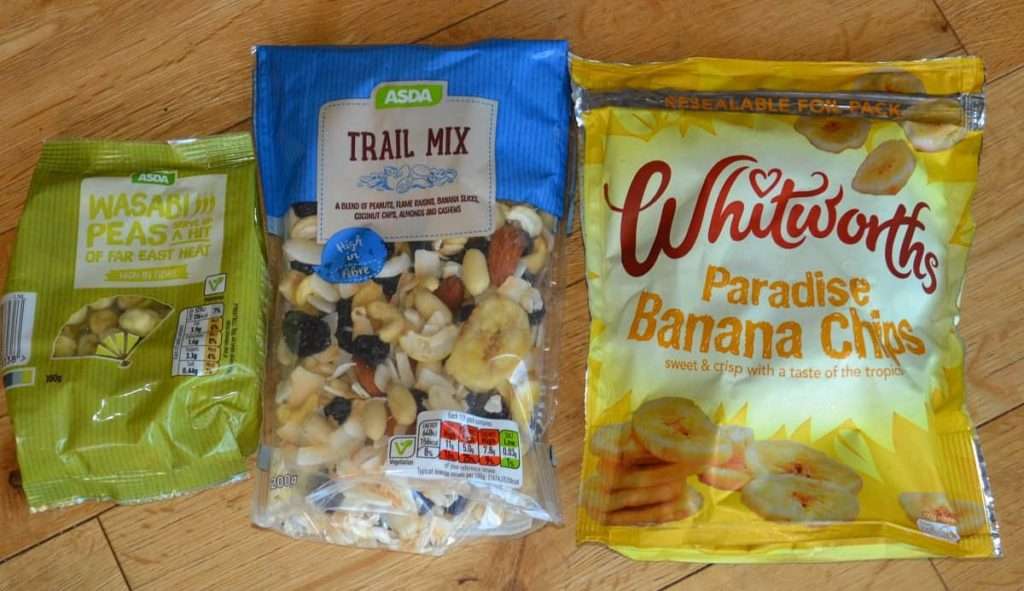 Trail mix – 520 Cal/100 g
Banana Chips 510 Cal/100 g
Wasabi Peas – 470 Cal/100 g
Dinner
Where possible I try to stop off at a pub or restaurant for dinner in order to have a full meal and fresh vegetables. Where this isn't possible there are a number of popular options.
Pasta
Quick to make and tasty, perfect for thru hiking. Make sure you bring powdered milk with you as most the packets need it!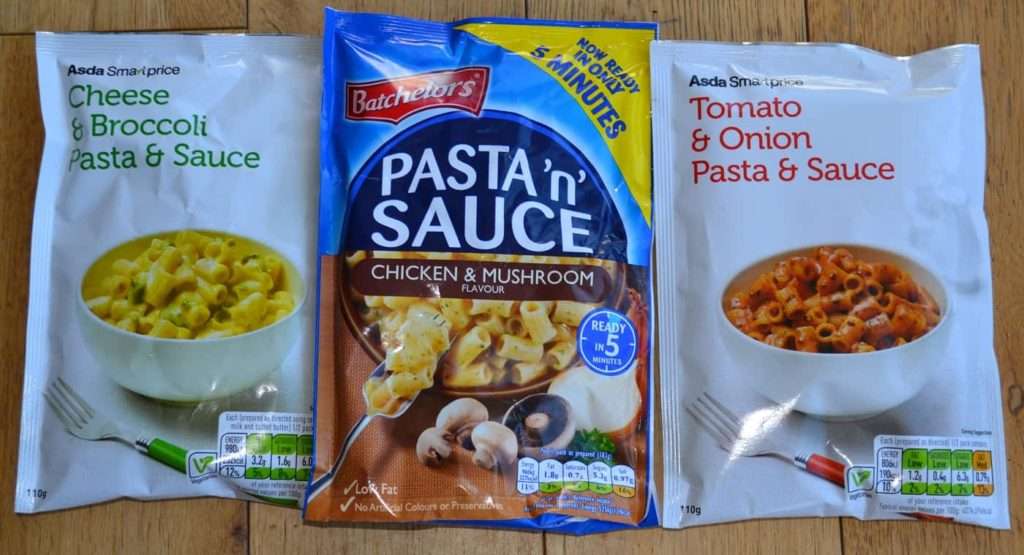 Pasta n Sauce – 380 Cal/100 g
Rice / Cous Cous
Cous Cous is one of the easiest carb rich foods to make, it also uses up very little gas as you can simply add boiling water and then pop in a pot cosy for 5 minutes.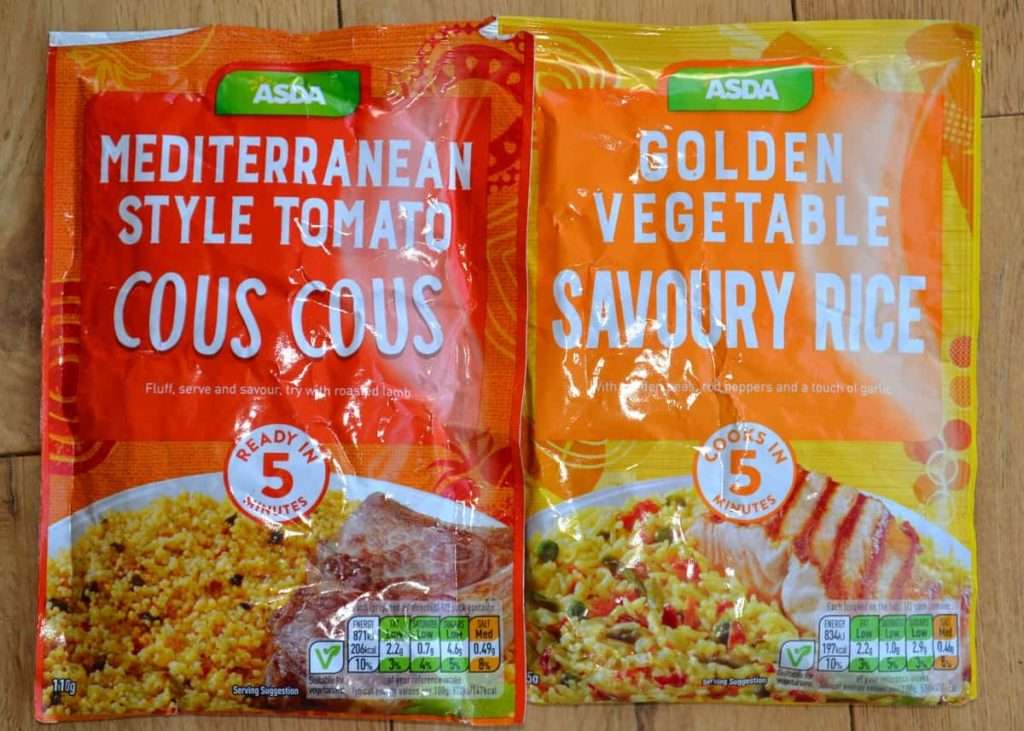 Savoury Rice – 380 Cal/100 g
Cous Cous – 390 Cal/100 g
Ramen Noodles
Instant noodles are really quick and easy to make, which means that I will often have a packet when I stop for lunch. If you can find some fresh vegetables to toss into the pan all the better.
Super Noodles -390 Cal/100 g
Soya beanfeast bolognese / Falafel mixture
These packets really add an extra dimension to pasta-n-sauce style dishes, as well as providing an added protein boost.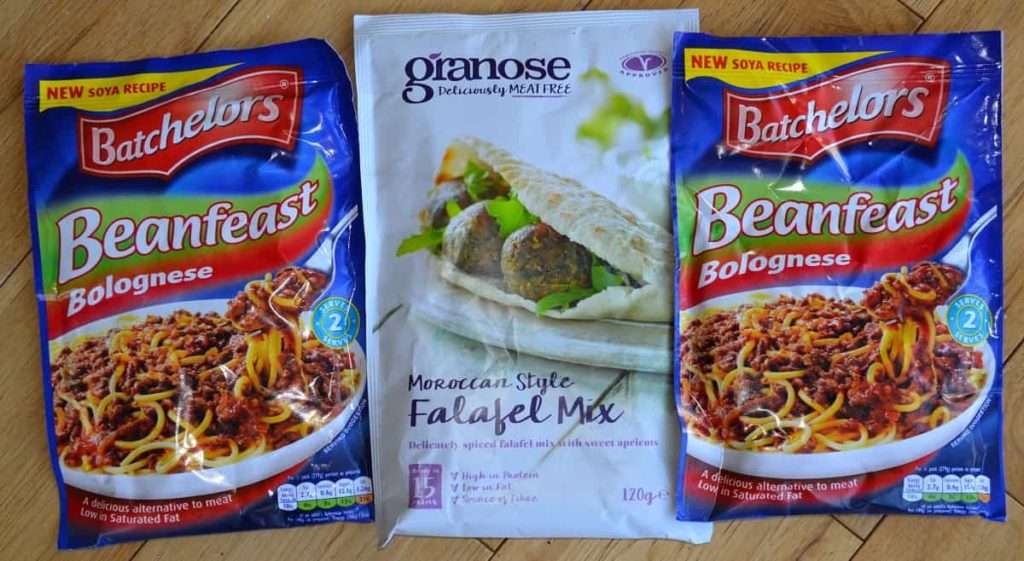 Bean Feast – 380 Cal/100 g
Falafel Mix – 400 Cal/100 g
Desert
Apple pie and custard makes a tasty, calorie rich desert. Easy to make too – just boil some water, stir in the custard powder and then finally add an apple pie or two on top!
Apple Pies – 350 Cal/100 g
Custard – 350 Cal/100 g
Condiments & Extras
I always bring a few extra condiments to use to inject some flavour into meals.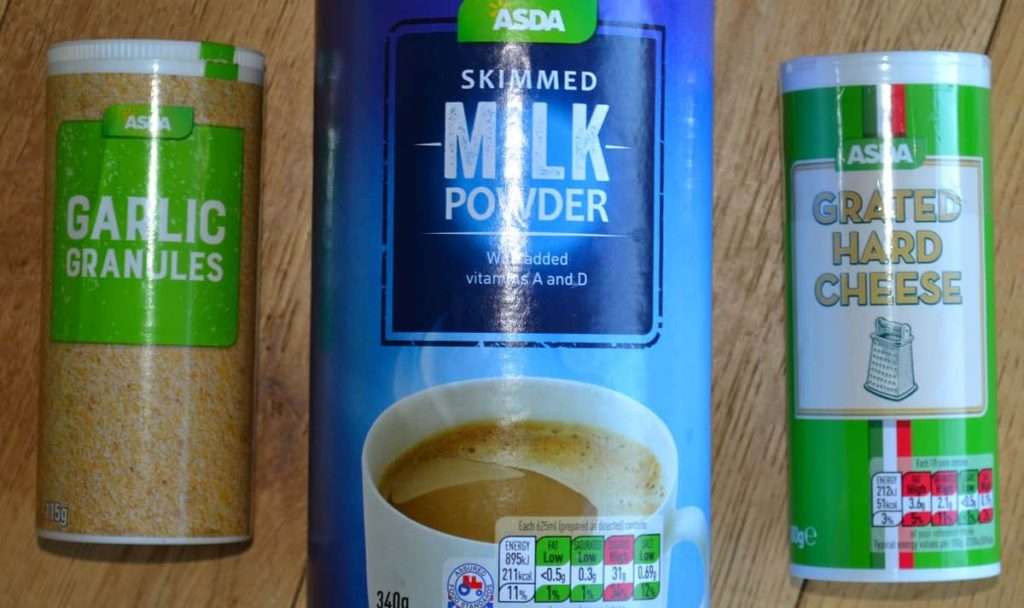 Garlic Granules – 350 Cal/100 g
Milk Powder – 400 Cal/100 g
Hard Cheese – 510 Cal/100 g
Coconut Butter – 700 Cal/100 g
Dried expedition foods
Although they are expensive (about £5 each packet!) expedition rations are a really hassle free dinner option, especially if you are running low on gas. You simply pour in boiling water up to the line, close the zip and leave it took cook inside for 8 minutes!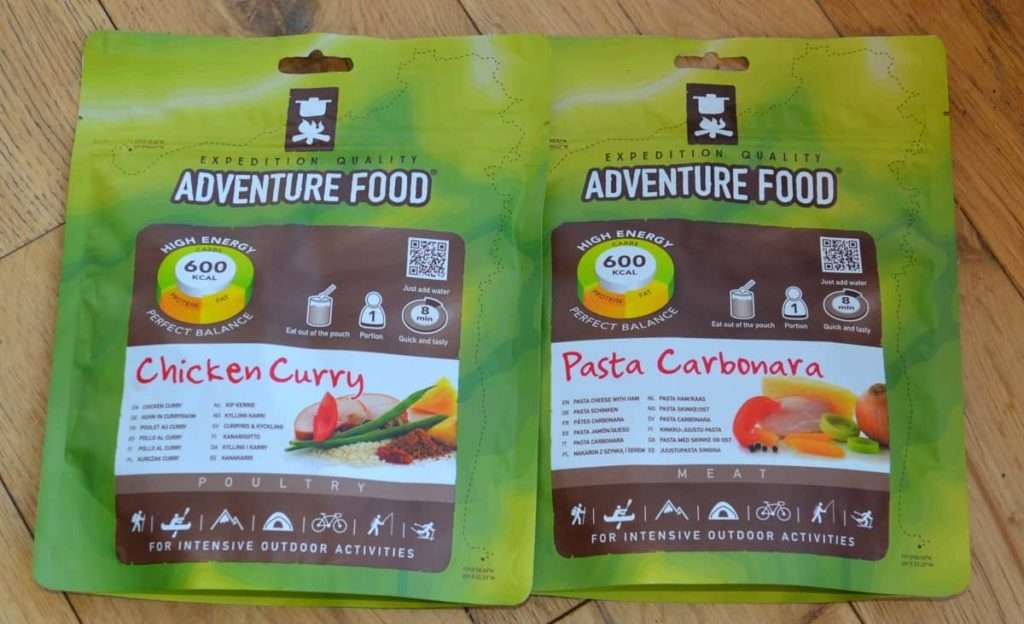 How much food to bring?
Looking at the food above it is clear that there isn't a huge variation in the calorific values per 100 g – on average about 400 Calories. Given that on an average expedition we will be burning a minimum of 4000 calories per day we will be needing 1Kg of food per day if we are planning on solely eating the food we bring with us.
This makes planning very easy – chuck in a mixture of dried foods and weigh the bag to see if you have the right amount of days!
Got any recommendations?
What other dried food do you bring? What works best? What's cheapest? Add a comment below with suggestions!