Introduction
I love hiking and I love photography, but they don't always love each other. I used to take my trusty DLSR with me everywhere when I was hiking. The 1.5kg setup was perfectly fine for short 5km hikes to the top of a mountain for some sunset & sunrise photography.
However when I attempted to take my DSLR on my 268 mile hike along the Pennine Way I quickly realized that heavy cameras and long distance hiking don't make a happy fit. I mailed it back home at the first opportunity and settled for using my Nexus 7 phone camera instead.
Over the next couple of weeks I took what seemed like lovely photos, but when I got back to civilization I remembered what I really knew all along – smart phones will never take the same photos as dedicated cameras, especially when I came to landscape photography.
I realized that if I was going to combine long distance thru-hiking with landscape photography I was going to need an ultralight camera. As such I began researching new cameras and I came up with a list of requirements.
Must-have Features
Under 500g including battery , lens cover & kit lens
In-body or in-lens stabilization
Weather Sealing *
* It turns out there are no weather sealed cameras currently available under 500g
Nice-to-have Features
Good battery life
External View Finder
Wide exposure bracketing range
External Mic Input
Higher Megapixel Count
USB Charging
---
The shortlist
After a good deal searching around narrowed my selection down to the following 5 cameras as of May 2021
Fuji X-E4
Canon M200
Fuji X-A7
Sony A6000
Panasonic GTX 850
All the cameras that made the shortlist are under 500g and have image stabilization, but sadly none have weather sealing.
---
Fuji X E4 | Premium camera for enthusiasts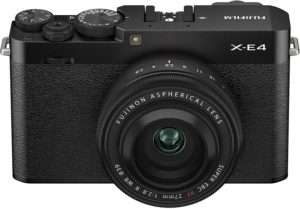 Weight: 497g / 17.5 Ounces
Price: £900 – Amazon
Pros
All the required features
Good Battery life
Cons
The heaviest of all the cameras
Expensive
If you have plenty of cash and are will to carry the weight then this is probably the camera for you. The Fuji X-E4 is a fully featured camera with all the features that that amateur photographers and videographers are going to need. 
---
Canon M200 | High resolution smart phone upgrade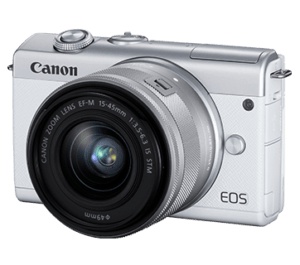 Weight: 429g / 15.1 Ounces (Plus charger 50g-70g)
Price: £550 Amazon.co.uk
Pros
Great for large prints and heavy cropping
One of the more affordable cameras
Easy step up from using a phone camera
Cons
No electronic view finder
Limited exposure bracketing range
No USB Charging means carrying extra charge cables
Canon's M200 is a lightweight and compact camera that provides a familiar interface for anyone upgrading from a smart phone camera. It's only really let down by its lack of USB charging which means that you have to carry around an extra charge cable, undermining its ultralight credentials and adding an extra item to carry.
---
Fuji X A7 | Great photos and video on a budget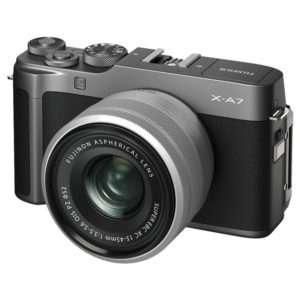 Weight: 455g /16 Ounces
Price: £599 Amazon.co.uk
Pros
Excellent Battery Life
Plenty of features crammed in
Cons
No electronic view finder
This great little camera crams in a lot of technology and an excellent sensor into a light weight package. The only limitation really is that it doesn't have an EVF, which is a must-have for many people.
---
Sony A6000 | A classic that still holds its own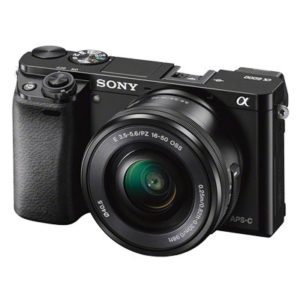 Price: £460 Amazon.co.uk
Weight: 468g / 16.5 ounces
Pros
Great value as it has been officially replaced by the newer 6000 series models
Good battery life
Excellent build quality
Sturdy Grip
Cons
One of the heavier cameras
EVF is showing its age with only 1.4M dot display
It's rare that a camera would still make the shortlist for a top thru-hiking camera 7 years after it was originally released, but this camera is going no-where soon. High quality images, robust design 
---
Panasonic GX 850 / GX 800 | Truly Ultralight Camera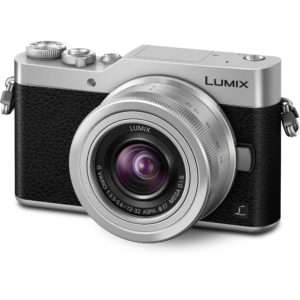 Weight: 336g / 11.8 Ounces
Price: £349 Amazon.co.uk
Pros
The lightest weight mirrorless camera around
Only camera on the list to have focus stacking
Cons
Mediocre resolution at 16 megapixels
Limited video capabilities
This camera makes a lot of sacrifices to get the weight down – no EVF and only 16 megapixels, but for ultralight purists this may well be the camera to go for. The in-camera focus bracketing & stacking are a very strong selling point if you are only interested in shooting landscape photography.
---
Camera Specs Comparison Table
| Model | Weight | Shots | EVF | MP | Mic in | USB Charge | Ex Bracket +/- |
| --- | --- | --- | --- | --- | --- | --- | --- |
| Panasonic GX 850 | 336g | 210 | No | 16 | No | Yes | 5 |
| Canon M200 | 495g | 315 | No | 24 | No | No | 2 |
| Fuji X-A7 | 455g | 440 | No | 24 | Yes* | Yes | 5 |
| Sony a6000 | 468g | 360 | Yes | 24 | Yes* | Yes | 3 |
| Fuji X-E4 | 497g | 380 | Yes | 26 | Yes* | Yes | 3 |