Location : Coniston, Lake District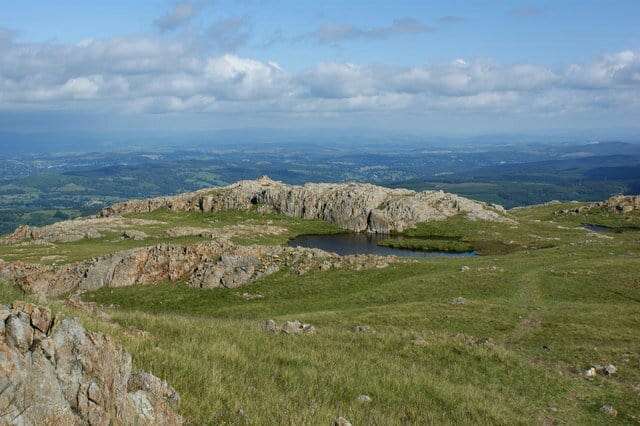 I discovered this beautiful wild camping location completely by accident. I was supervising a Duke of Edinburgh gold expedition and the group ran into trouble while ascending the Western flank of The Old Man of Coniston.
The weather conditions were deteriorating, group morale had taken a hit and they needed some encouragement. I intercepted the group, gave everybody Jelly Babies, and then accompanied the group down the technical descent along the Prison Band ridge.
Once down onto a gentler path I let the group get on their way and decided to descend to Coniston via Wetherlam, on the grounds that it sounded a bit like Weathertop a fictional location featured in the first of the Lord Of The Rings trilogy.
After rounding the summit I began to descend along the South shoulder and stumbled upon this lovely little Tarn!
OS Map & Route
Download file for GPS
Details
Start : SD 302 975
Camp : NY 292 002
Distance : 3.75km
Time : 90mins
Ascent : 602m
Final Altitude : 640m
Features
Small Tarn nearby, perfect water source for cooking.
Shelter from prevailing westerly winds
Easy to follow descent path
Views
Langdales to the North East
Coniston Water to the South East.
Parking
Park in one of the quieter side streets in Coniston for free.
Parking is sometimes difficult during the daytime in July/August
Notes
You can combine this camp with a climb of Old Man (via Prison Band) and returning via Dow Crag or Copper Mines Valley.