We woke up early and after a simple breakfast of porridge oats washed down with a coffee we broke camp, eager to make some miles on what we expected to be a long, hard slog of a day. Loch Ness was notorious for it's changeable weather and so we fully expected to be battling swells and headwinds all the way.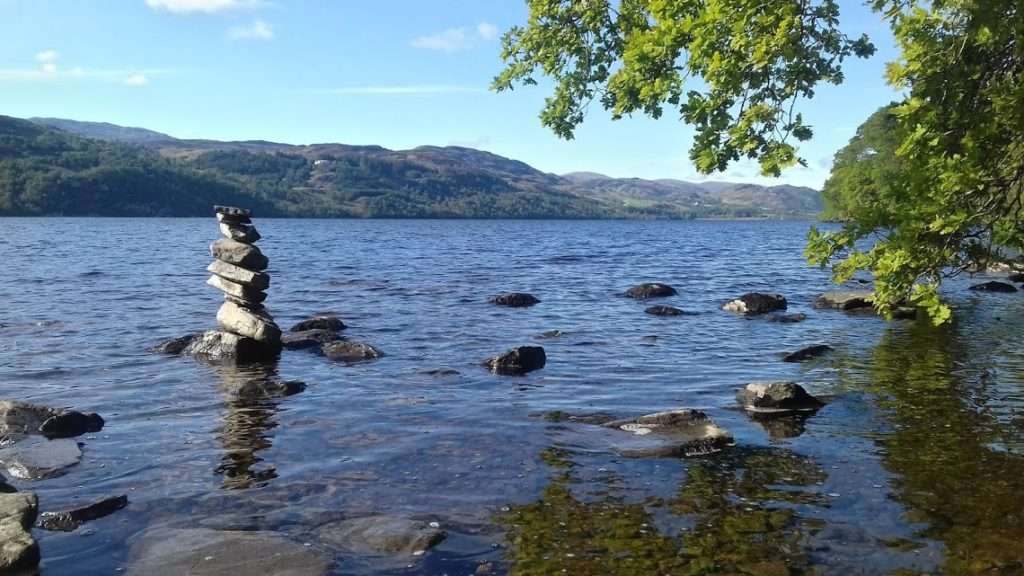 The weather was calm and there was nothing but a slight south-westerly wind as we set out in our boats. Soon though the wind began to pick up and it was time to rig up our circular canoe sails!
Gone with the wind..
The wind filled the sails and almost immediately we were pushing a steady 5 km per hour without paddling at all! I opted to use my paddle as a rudder, steering the boat one-handed as I sailed. Mark wasn't comfortable with the technique so instead kept hold of his paddle with both hands, paddling where necessary to straighten the boat.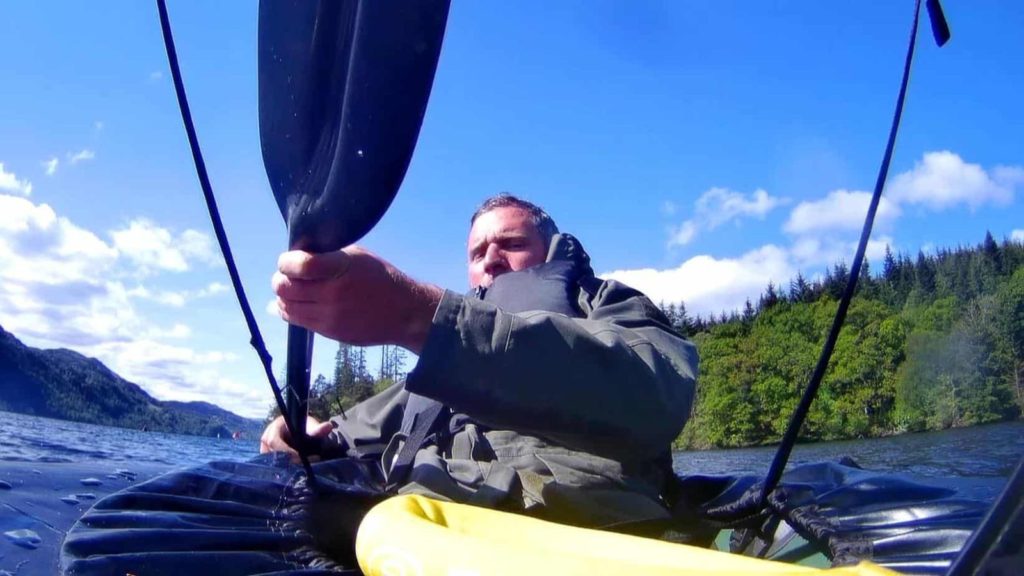 What followed was 2 hours of utter sailing bliss. We glided along effortlessly, passing houses, lodges, rivers and inlets, all the while taking care to stay within 20 metres of the steep shoreline that flanked us on our left. The sun was beaming down on us and soon mark and I both had to don our silly hats to keep from getting too sun-burnt.
As time wore on we both began to get peckish and decided to find somewhere to stop for a bit of lunch and to stretch our now stiff legs. Landing spots were few and far between, but eventually we happened upon a perfect little beach – flat, pebbled and protected from the wind.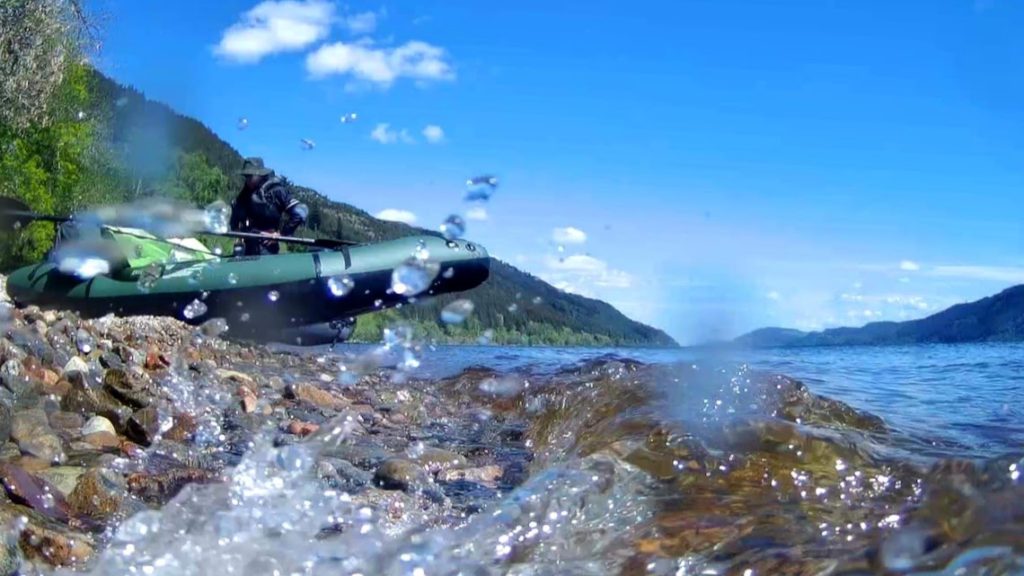 We grabbed a quick lunch of instant noodles, together with some trail mix – an essential ration for any trip of mine.
Having a swell time
The wind had been building steadily throughout the morning and the swell was beginning to develop – this afternoon's sailing was going to be even more fun than the morning!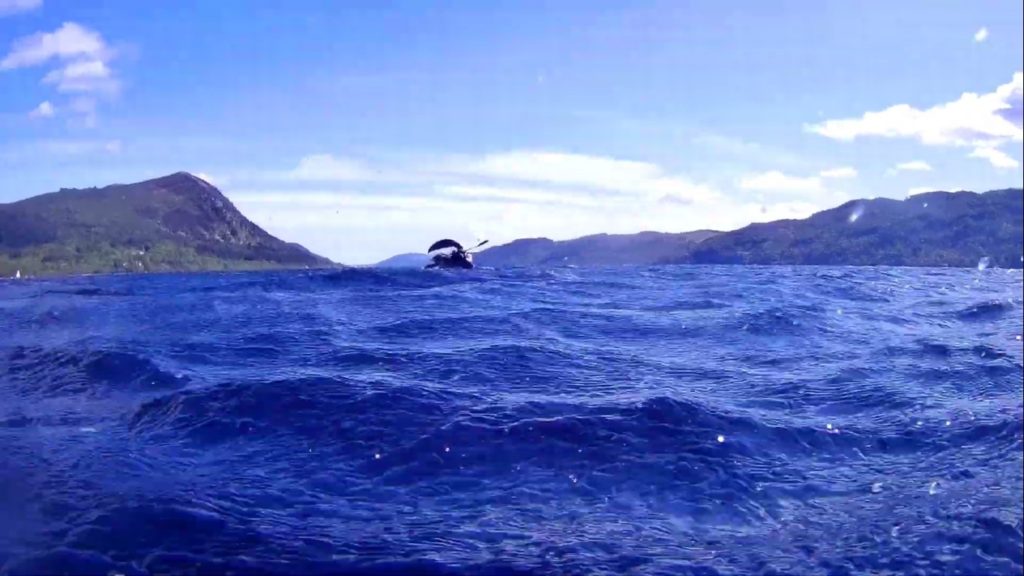 The stronger winds provided a great deal of fun in the afternoon, especially when the combined with the wake of the passing ships. We were tossed about merrily for a good few hours as we steamed on down towards our goal and the winds only died as we reached the ruins of Urqhart Castle, which marked the end of our day's journey.
We paddled the last few hundred yards (I was a little upset that I didn't to sail all the way!) read the entrance to the bay and took our boats out next to the remains of a derelict jetty. The jetty had once been the main landing place for those visiting Drumnadrochit, but as the craft sizes grew larger a new harbour was built on the opposite side of the inlet.
We packed up our boats and hiked the half a mile journey from the jetty to the campsite. Upon arrival at the campsite we attended to the most important item on the agenda…a shower! After 4 days paddling both Mark and I were beginning to smell pretty fruity, so a hot shower was an absolute godsend!
After freshening up we headed into the village to find some pub grub and beer!
Route Information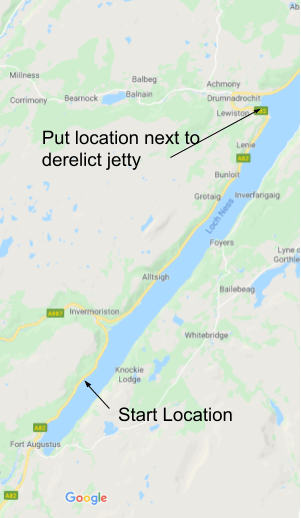 Canoe take out
Grid: 524 291 – By the derelict Jetty at Drumnadrochit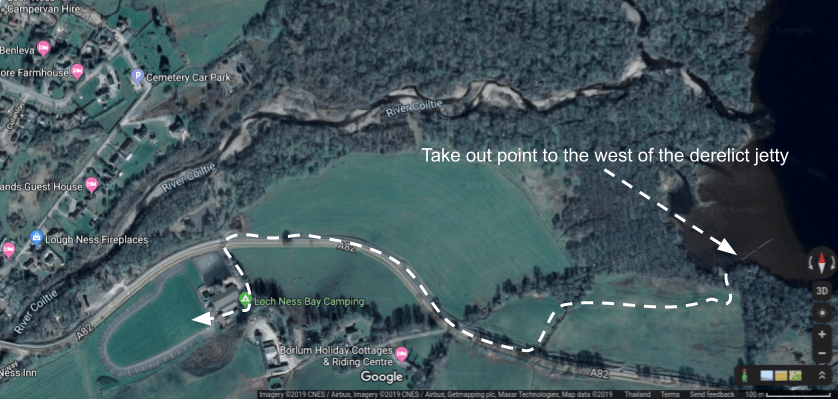 Kit Info
Our 42″ Pop up canoe sails can be purchased from amazon here.